Important: always check with the refuge staff before hunting or fishing for updates regarding species, season dates and other regulations for your own safety and security. Most refuge offices and visitor centers are closed on federal holidays.
Without exception, all refuges follow state and federal regulations, including license requirements, and may have additional rules and regulations as well. Check the US Fish and Wildlife Service refuge hunting website for more information.
The USFWS Hunt Areas Layer is in the Hunt Folder in the Map Layers Menu. Click here to learn more about using the Map Layers Menu.
USFWS Huntable areas are bordered green. The letters "USFWS" are inside the border. Non-huntable areas are labeled "No Hunting" and have diagonal red lines.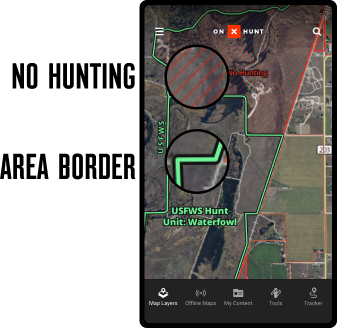 You can easily identify USFWS Hunt Areas Layer information and other map features without consulting a legend by tapping the feature on your screen. Click here to learn more about identifying map features without a legend.
To find out if an area is open for hunting, go to the USFWS "Find Your Hunt" map and search for the refuge name. After finding the area, scroll to the bottom of the window on the left and click on a unit.