Some of the Map Layers in the Hunt folder shade the map or obscure features. If your map is blacked out or is shaded a certain color, most likely one of these layers is on.

Tap the Map Layers Button in the bottom-left hand corner to open the Map Layers Menu.


Map Layers are grouped into a series of folders. Tap the "Hunt" folder to open it.


Turn off any layers you have on by tapping them one-by-one to see how the map changes.
Dark or shaded map - Roadless Areas Layer.

Yellow, orange or red shading - NWTF Wild Turkey Records Layer.

Colored square patches - Precipitation Radar Layer.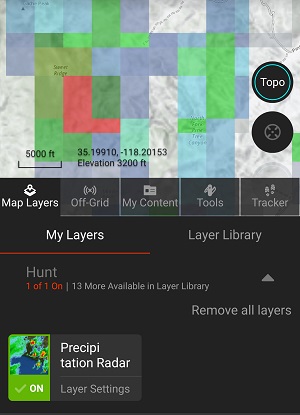 Basic or distorted looking map - Forest Visitor Maps Layer.