Many of the map layers in onX Hunt will shade the map or obscure certain features underneath. If your map appears blacked out or is shaded a certain color, most likely one of these layers has been turned on. The most common layers that cause this issue are:
Roadless Areas - Map is dark or shaded
NWTF Wild Turkey Records - Map is tinted yellow, orange, or red
Precipitation Radar -  Map has green and blue colored patches
Forest Visitor Maps -  Map looks distorted or basic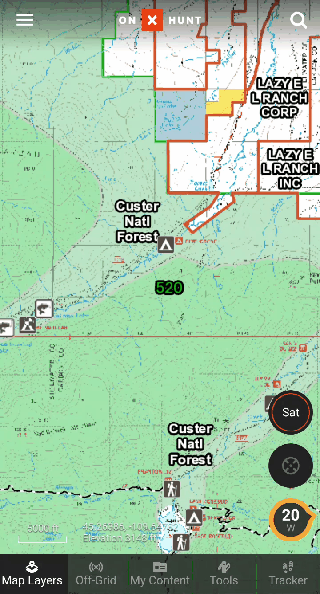 To Identify the Layer and Turn it Off:
Open the map layers menu by tapping the "Map Layers" button  in the lower left corner.
Most of the layers that cause this issue will be found in the "Hunt" folder. Tap on "Hunt" in the My Layers menu to open the folder.
Turn off any active layers by tapping on them one-by-one to see how the map changes.

Other Layers That Can Cause This Problem:
Government Lands Layer (found in the state folder in the My Layers menu).
QDMA CWD Distribution (found in the Hunt folder in the My Layers menu).
Nautical Charts (found in the Water folder in the My Layers menu).
If you are unable to locate the layer causing the problem, or you've turned off all layers and it still doesn't look right, please take a screenshot and send it to help@onxmaps.com.