Best practices are ways of using onX Hunt to get the most out of your outdoor experiences. Your mobile device may have default settings that are designed to improve the device's performance, but they may interfere with some features of onX Hunt when you're out in the field.
Tips and tricks are ways we've found of using certain features of onX Hunt together to get the most out of it.
Table of Contents:
Best practices.
Tips and tricks.
Best Practices
Take control of your Offline Map experience.
Offline Maps allow you to use onX Hunt in areas with no cell or internet service. Learning how to manage and maintain your Offline Maps is crucial to ensuring you have the data you need when you need it. Before leaving on your trip, check your Offline Maps and make sure all the information you need is there.
Click here for a tutorial on saving, testing and using Offline Maps on your mobile device.
You can use onX Hunt Web Map on your computer to more easily scout and save maps to your account. Maps saved using your computer need to be synced to your mobile device before you use them in the field.
Click here to learn how to use the onX Hunt Web Map to save and manage your offline maps.
Preserve your battery and save mobile data
Use the Offline Maps feature and airplane mode to save power and mobile data. onX recommends that you DO NOT use the battery or power saving features on your device as they will cause your location to be less accurate. Click here to read about a battery saving experiment conducted by our founder.

Allow onX Hunt to run in the background
Your phone or tablet will limit the amount of power and memory that the onX Hunt App uses when you are not looking at it or touching the screen. This may cause some of the features of the app to not work correctly.
Open the Settings menu on your device, find the onX Hunt App in your list of installed apps, and tap it to open the onX Hunt App menu.
For iPhones and iPads, turn on "Background App Refresh."
For Android devices, turn on "Background data."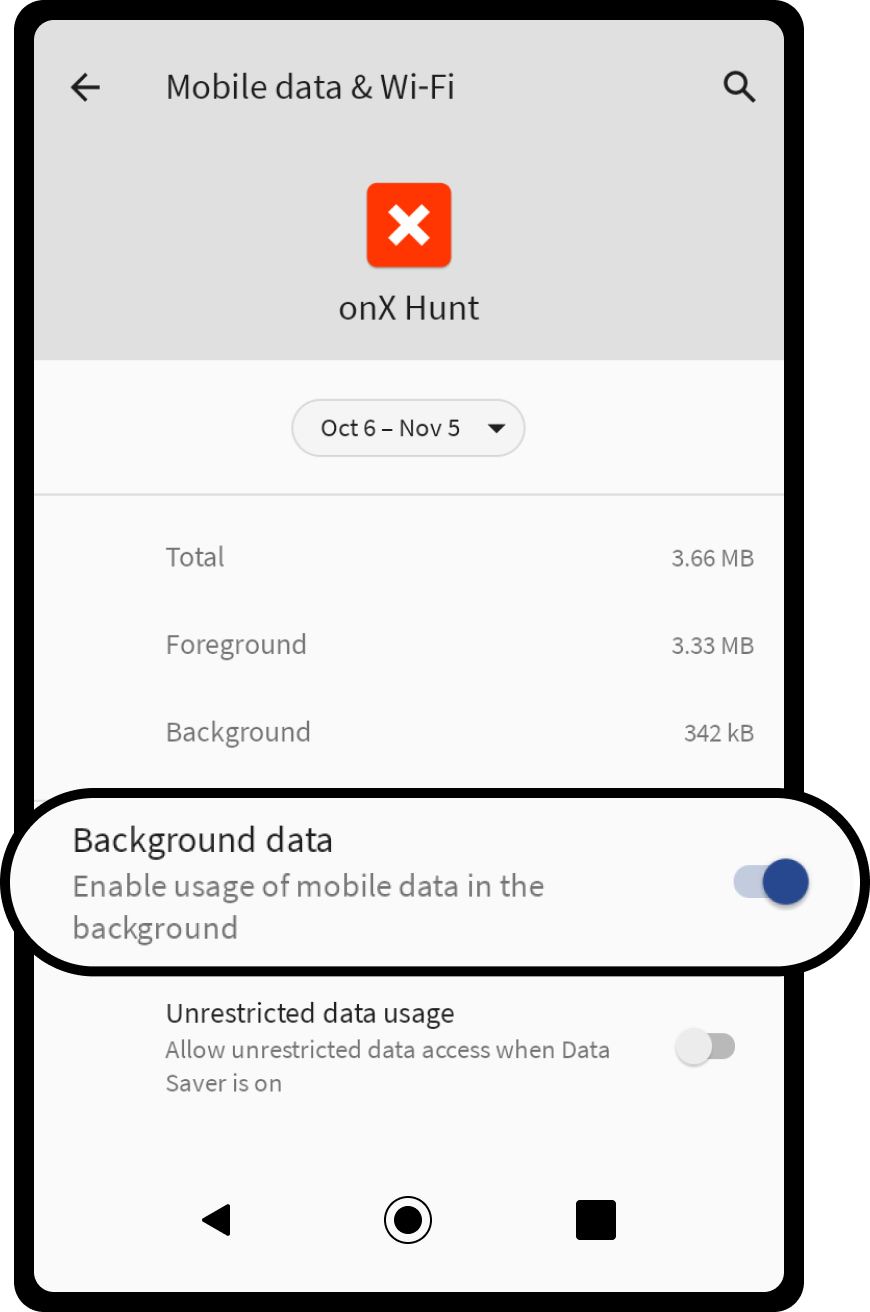 Speed up performance of the onX Hunt App
Disable any Layers and Markups not currently in use to reduce the amount of memory being used by the onX Hunt App.
Click here for instructions on enabling and disabling Layers.
Click here for instructions on enabling and disabling Markups.
Do not log out
If you log out of the onX Hunt App, you will not be able to log back in without an internet connection, even if you have saved Offline maps.
Closing the onX Hunt App will not log you out, and you will be able to open it again even outside the cell network.
Tips and Tricks
Show other users where you are
You can quickly mark your location with a Waypoint and share it with any other onX user to show them where you are.
This feature will only work when your device is connected to the internet.
Click here for instructions on creating Waypoints.
Click here for instructions on sharing Waypoints.
Place a Waypoint at an exact latitude / longitude location
Use Search to center your map over the coordinates, then use the "Add a Waypoint" tool to place a Waypoint in the center of your map.
Click here for instructions on using Search.
Click here for instructions on creating Waypoints.
Back-Up Your Markups (Waypoints, Lines, Shapes and Tracks)
Your Markups are saved to your account, but you can back them up on your own computer and restore missing Markups that are accidentally deleted.
Back-ups do not preserve Markup colors, Waypoint icons or Line weights.