Built in Collaboration with the Quality Deer Management Association.
What is CWD?
Chronic Wasting Disease (CWD) is a transmissible neurological disease of deer and elk that produces small lesions in brains of infected animals. It is characterized by loss of body condition, behavioral abnormalities, and death. CWD is classified as a transmissible spongiform encephalopathy (TSE), and is similar to mad cow disease in cattle and scrapie in sheep.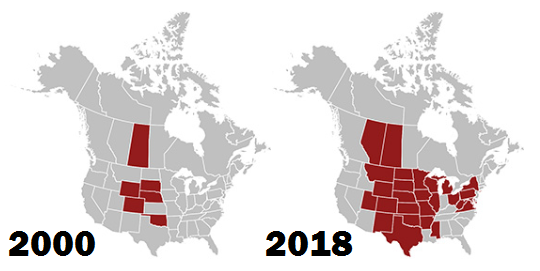 How does this effect my hunt?
Besides impacting deer populations, many states and counties have checking stations preventing you from transporting harvested meat. Additionally, the presence of CWD in a particular hunting unit may effect the regulations.
If you plan on hunting in an area effected by CWD, be sure to check the local regulations for any restrictions and be prepared to submit a sample of your harvest for inspection.
Where to find the QDMA CWD layer
The QDMA CQD layer if a free layer that can by found in the "Hunt" category.
This free Nationwide layer highlights each county where CWD has been detected.
Red shading indicates that CWD has been detected in the county.
With the CWD layer turned on, tap or click inside any effected county to pull up a link to the QDMA CWD webpage for more info.
Who is the Quality Deer Management Association?
Founded in 1988, the Quality Deer Management Association now has more than 60,000 members in all 50 states (and several foreign countries). QDMA works to educate all deer hunters about the benefits of of the Quality Deer Management philosophy. With the support of numerous member-volunteers, corporate sponsors, and other QDM advocates, the implementation and awareness of QDM has resulted in healthier, more balanced deer populations, leading to more rewarding hunting experiences.
To learn more, visit the QDMA webpage.