*NOTE: This article contains instructions for the latest version of onX Hunt. If you do not yet have Layer Library, click here for instructions on how to update your App.
We have gathered a large amount of trail information from across the U.S. and made it available to our customers.
This information is integrated into the "Trails" layer, and includes the name of the trail, the activities allowed on the trail, and other important information.
To access this information, first make sure your "Trails" layer is enabled.
Tap "Map Layers" in the bottom left-hand corner.
Tap "Layer Library" on the right side of the menu.
In the "Trails & Rec" section, tap the "Trails" layer to move it to the My Layers menu.
Go to the My Layers menu and tap the "Trails" layer to enable it.
Return to the main map, and tap on any trail to bring up the "About this location" window. You may need to try a few times to tap exactly on the trail. When the trail is selected, it will be highlighted green:
In the "About this location" window, you will see the name of the trail, any notes about the trail, and the activities allowed: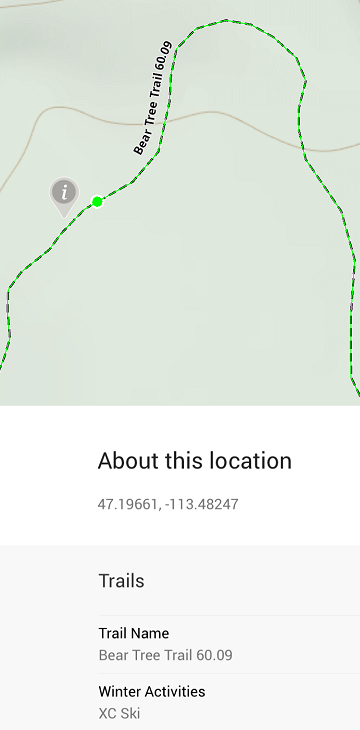 Swipe the "About this location" window up to view more information:
Click here for more info about identifying map features
Click here for more info about using map layers, layer library, and layer settings