You can manage your Offline Maps on your mobile device using the Offline Maps Menu.

If you save a map on one device, it will appear in the Offline Maps Menu on all your devices. Tap the download icon next to the map to download it on each device you want to use offline.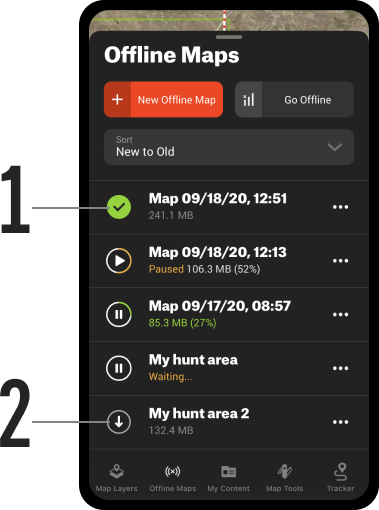 Green check-mark - map downloaded to device.


Down pointing arrow - map NOT downloaded to device. Tap to download the map to this device.
How do I save a new Offline Map using my phone or tablet?
Save Offline Maps while your device is connected to mobile data or Wi-Fi (Wi-Fi recommended for speed and reliability).
Open the Offline Maps Menu.




Tap "New Offline Map."




Choose your Map Resolution and Detail level. Smaller maps have more detail at the closest zoom levels.


How do I download Offline Maps that I saved to my account using my computer or another mobile device?
If you have saved maps from a computer or a different mobile device, make sure to download them to the mobile device you plan to use in the field.
Open the Offline Maps Menu.




Find the map you want to save to your device and tap the download icon next to the map.



What do the other icons next to my offline maps mean? Click here for a complete overview of the Offline Maps Menu.
How do I test an Offline Map?
Before you head out into the field, we recommend that you open the Hunt App and go into Offline Mode to verify that all the Offline Maps you need are downloaded to your device and up to date with the latest info available.

Click here to learn how to test your Offline maps before you head out.
How do I use an Offline Map in the field?
Open the Offline Maps Menu.




Tap "Go Offline."



When you're in Offline Mode, all of the maps saved to your device will be visible.

We recommend using airplane mode when offline to preserve battery life.