Inside your onX Hunt Chip package, you'll find the chip itself and a larger SD adapter for installing the onX Hunt Chip in your computer. For these instructions, we won't need the adapter.
There is also a 16 digit Redeem Code in the package with your onX Hunt Chip. The redeem code isn't needed to activate your onX Hunt Chip, it just allows you to update the onX Hunt Chip and use the onX Hunt App free for one year.
Each model of Garmin GPS is a little bit different, so refer to your GPS owner's manual for instructions on installing SD chips, if the instructions below do not match your device. Click here for Garmin's GPS owner's manuals.
To install the onX Hunt Chip in most Garmin GPS units:
Remove the battery cover and batteries, and lift up the metal flap.

Slide the onX Hunt Chip into the SD chip tray. The notches on the chip line up with the notches in the tray.

Close the metal cover and slide it down to lock it in place. If the metal cover is not locked in place, the GPS unit will not be able to read the chip.

Replace the batteries and battery cover and turn the device on.
Your Garmin GPS unit will work the same as it did before, but the map you see will be drastically improved. Click here for a map legend.
After installing the onX Hunt Chip in your Garmin GPS, follow these instructions to make sure it's owrking correctly:
Go to the main map.
Zoom in past one mile on the state included with your onX Hunt Chip.
You should see private landowner information, government lands, and hunting units.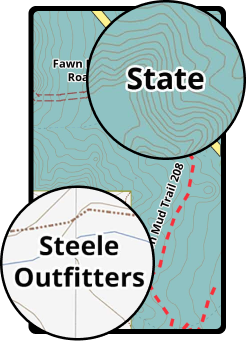 Click here if your onX Hunt Chip is not working with your Garmin GPS unit.