*NOTE: This article contains instructions for the latest version of onX Hunt. If you do not yet have Layer Library, click here for instructions on how to update your App.

Customize Your Map to Show Only the Information You Want.
The Layers Menu is divided into 2 sub-menus:
Layers currently available for viewing. Only layers in this menu can be enabled for viewing on the map.
Layers that are currently not available for viewing. Layers in this menu must be added to the My Layers menu before they can be enabled.
Both My Layers and the Layer Library are organized into sections:
Each state has it's own section.
Hunt - Hunting specialty layers, like the current and historic wildfires, timbercuts, etc.
Trails & Rec -  Trail maps and statistics, and general outdoor recreation information.
Water - Nautical charts, Great Lakes Bathymetry, and River Stage Forecasts.
Customizing Your Map Using the My Layers Menu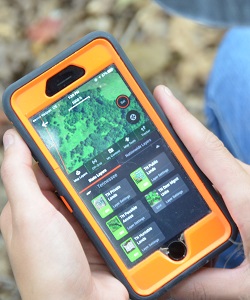 Before a layer in the Layer Library can be viewed on the map, it must be added to the My Layers menu:

Tap on Layer Library at the top of the Layers menu.
Locate the Layer you'd like to add to the My Layers menu, and tap the plus sign under the icon to move it to the My Layers menu.
When a Layer from the Layer Library is added to the My Layers menu, it is automatically enabled.
To enable any other Layer in the My Layers menu, tap the icon next to the name of the Layer. When it's enabled, it will be outlined in green and the word "ON" will be visible under the icon.
Layer turned 

off

:
 
Layer turned 

on

:
 
To remove a Layer from the My Layers menu, tap on "Layer Settings" and then "Put back in Library."
 Layer Settings
Layer Settings are only accessible through the My Layers menu.
Layers in the Layer Library will have a description, but the settings cannot be adjusted until it is added to the My Layers menu. 
Tap the "Layer Settings" button to display more information about a layer and adjust the layer's properties.
Increase the transparency to make the layer more see-through on the map.
Tap "Put Back in Library" to remove the Layer from the My Layers menu and move it back to the Layer Library.
Some layers have additional options in Layer Settings, such as switching between species in the Hunt Units layer: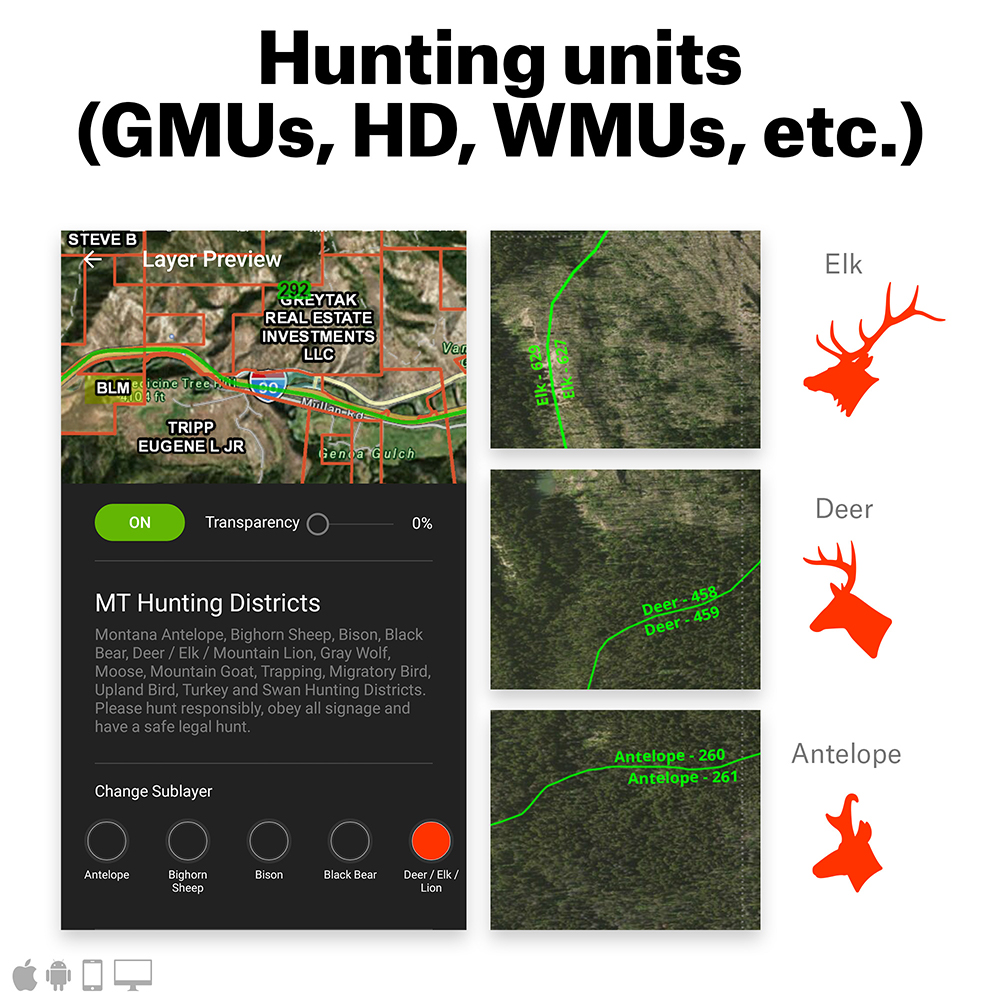 Looking for a Map Legend? Click here.