Your onX account is attached to your email address so you can use the same account on more than one device. To use your onX account on a new mobile device, all you need to know is the email address and password on your onX account.
First, download the onX Hunt App onto your new mobile device. Click here to learn how to download the onX Hunt App.
The first time you open the onX Hunt App on your new device, it will ask if you want to create a new account. The onX Hunt App will not know you already have an account until you log in.
Tap "Already have an account?" below the "Create Account" button, then enter the email and password attached to your onX account and tap the "Login" button.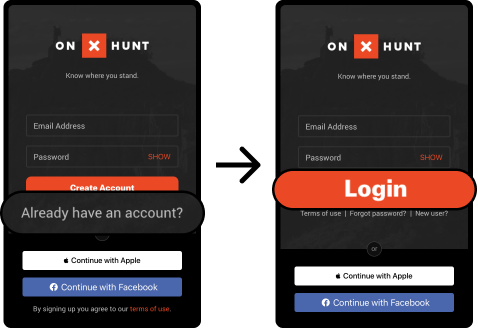 If you don't know the email address or password on your onX account, tap "Forgot Password?" underneath the "Login" button.
Enter the email address you think you used to set up your account. You will see a message that the password reset email was sent. Check the email inbox, junk folder, or spam folder of the email address you entered in the "Forgot Password" box.
If you do not see a password reset email from onX, then there is no onX account attached to that email address. Please try again with any other email you have access to. If you need to reset your password, click the "Reset Password" button in the email after you get it.
If your service isn't working after logging in on your new device, click here to troubleshoot.