Learn about map features without consulting a legend by tapping the feature on your screen.

Click here to learn more about identifying map features.
Essential Map Layers: Private Lands, Government Lands and Hunting Units/GMUs
onX Hunt turns on these three Layers by default the first time you launch the onX Hunt App.

Click here to learn how to turn on, turn off and adjust Map Layers.


What do the circles on my map mean?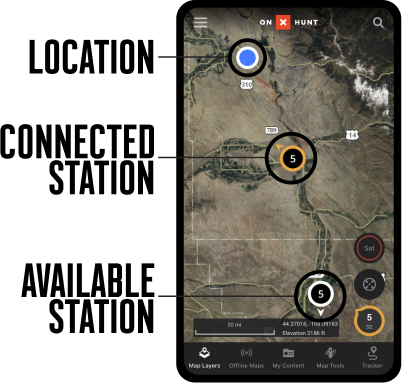 Symbols you'll see on Basemaps
These symbols are attached to the Basemaps and cannot be turned off or hidden.

Most Basemap symbols show up best on the Topo Basemap.

Click here to learn about our three different Basemaps.


Hiking trails
Hiking trail information is separated into three different layers: Hiking trails, trail slope, trail mileage.


Highways and roads
Dark yellow line - interstate highway.


Light yellow line - state highway.


Solid white line - side street.


Double-dashed thick line - two-track or jeep trail.


Single-dashed or thin double-dashed line - dirt / gravel road.

Click here to learn more about our road maps.
Recreation sites for hunting and camping


Click here for the complete Recreation Sites Layer legend.