Tap the Main Menu Button in the upper left corner.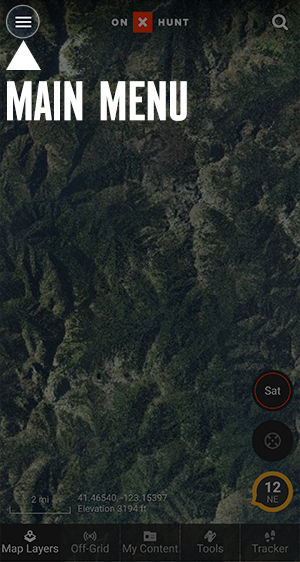 Tap "Map Settings."

From here you can change measurement units and adjust other map settings.
---
Units
Affects Map Tools and elevation
Coordinates
Affects latitude and longitude display
DMS (Degrees, Minutes, and Seconds) - Example: 

46° 51′ 21.02″ N

114° 00′ 28.96″ W

Decimal - Example: 

46.85477

-114.00773

UTM (Universal Transverse Mercator) - Example: 

11T 728068.88m

5193514.43m
Crosshair Visibility
Turn on or turn off crosshairs in the center of your map.
Show Offline Area Outlines
Turn on or turn off the green outlines displayed when the Offline Maps Tab is selected
Enable Pinch to Rotate
Enable the ability to manually turn your map by touching two fingers to the screen and rotating it
---
Learn More: